V piatok 14. 2. 2020 o 19:00
vás radi privítame na
vernisáži výstavy diel Viliama Slaminku
 s názvom
Bitter sweet.
On Friday 14. 2. 2020 at 19:00 p.m. we would love to invite you to the opening of the exhibition Bitter sweet by Viliam Slaminka.
EXHIBITION
Bitter sweet
Od 14. februára do 17. apríla 2020 v ATELIERi XIII
From 14 February till 17 April 2020 in ATELIER XIII

EXHIBITOR
Viliam Slaminka
Viliam Slaminka rád vo svojej tvorbe s humorom komentuje aktuálne spoločenské témy či rodové stereotypy a s hravosťou ich kombinuje s prvkami z popkultúry. Jeho obrazy či objekty sú typické svojou výraznou farebnosťou, štylizáciou a hrou s významami. Jednotlivé maľby často slúžia ako rekvizity výsledných až divadelných scén, ktorých význam sa zmenou inštalácie a kontextu zakaždým mení.
Fascinácia detským svetom sa prejavuje v jeho inovatívnom prístupe k priestorovým objektom, pri ktorých sa s detskou ľahkosťou pohráva s princípom readymade, experimentuje s materiálmi a recykluje takmer všetko čo mu príde pod ruku. Skúsenosti z pedagogickej praxe zúročuje vo svojich participatívnych projektoch, v ktorých formou hry necháva tvoriť samotných divákov.
Viliam Slaminka likes to humorously comment on current social issues or gender stereotypes and playfully combine them with elements of pop culture. Distinctive colorfulness, stylization and playing with meanings are typical for his paintings and objects. Individual paintings often serve as props of resulting theatrical scenes, whose meaning changes with every change of installation and context.
Fascination by the children's world is manifested in his innovative approach to spacial objects, where he plays with childish ease with the readymade principle, experiments with materials and recycles almost everything that comes to his hands. He makes good use of his pedagogical experience in his participative projects, in which he lets the audience itself create through play.
EDUCATION
2004 – 2010 Academy of Fine Arts and Design in Bratislava, Slovakia, studio Painting and other media, 4th Atelier of prof. Csudai, I also accomplished Supplementary pedagogical studies | 2000 – 2004 School of Applied Arts, Košice, Slovakia, field: Promotional graphics
AWARDS
3st prize in the VÚB Maľba 2013 – Painting of the Year 2013 competition, VUB Foundation Award, Slovak Republic
★
CONFERENCIER OF THE EVENING / KONFERENCIÉR VEČERA
Miroslav Vladovič
★
Počas výstavy Viliama Slaminku môžete počuť set od Don't Trust Butterflies, ktorý je nahraný len pre ATELIER XIII
Don't Trust Butterflies
Don't Trust Butterflies je mladá, indie-popová kapela zložená zo štyroch chlapcov z Bratislavy. Tvoria ju Simon Štubniak (spev/bicie), Gregor Hraška (gitara), Ján Burgr (basgitara) a Denis Dubovický (live bicie). Skupina tvorí hudbu už od roku 2016. Boli objavení v Demovnici Rádia_FM kde sa umiestnili na prvej priečke. V ten istý rok sa im podarilo získať prvé miesto v rebríčku Osmička_FM. V roku 2018 vydali svoje debutové EP Red Butterfly, ktoré si rýchlo získalo priazeň svojich fanúšikov. Na Radio Head Awards 2018 získali ocenenie Objav roka.
During the exhibition of Viliam Slaminka, you can hear a music set by Don't Trust Butterflies recorded only for ATELIER XIII
Don't Trust Butterflies
Don't Trust Butterflies is a young, indie-pop band formed by 4 boys from Bratislava – Simon Štubniak (vocals/drums), Gregor Hraška (guitar) Ján Burgr (bass guitar) and Denis Dubovický (live drums). The band has been creating music since 2016. They were discovered in Demovnica of Rádio_FM, where they took first place. In the same year, they also succeeded in taking first place in the Osmička_FM chart. In 2018, they released their debut EP Red Butterfly, which quickly won their fan's favor. They gained the Discovery of the Year prize of Radio Head Awards 2018.
Z verejných zdrojov podporil Fond na podporu umenia
Supported using public funding by Slovak Arts Council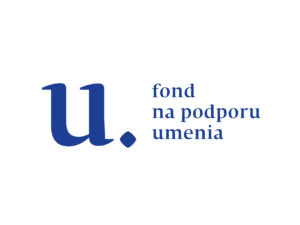 Ďakujeme za pitný režim značke EXCELENT!
#svojoucestou

Ďakujeme za krásne slová Rádiu_FM!
#radiofm
Tešíme sa na vás!
We are looking forward to you!
#atelierxiii