15. august 2020
Detské dielne s Julianou Mrvovou a Marekom Halászom na tému Horiaci les.
Art workshop for children with Juliana Mrvová and Marek Halász on the topic Burning Forest.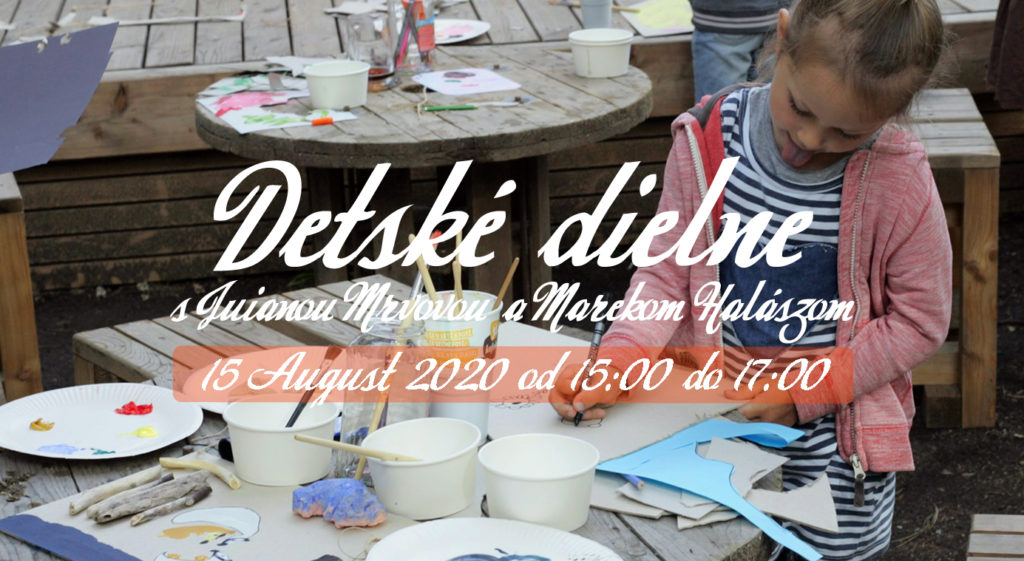 PROGRAM
V sobotu 15.8.2020 od 15:00 do 17:00
On Saturday, 15.8.2020 from 15:00 until 17:00

Deti sa najskôr oboznámia s témou aktuálnej výstavy Juliany Mrvovej s názvom After the Fire – regenerácia prírody po ohni a budú kresliť svoje vlastné lesné výjavy. V druhej polovici detských dielní bude vznikať spoločné dielo – veľká maľba vodovými farbami kombinovaná s kresbami voskovkami, ktoré kreslili v prvej polovici dielní. Deti si tak vyskúšajú dve techniky a spoločnú tvorbu.
Detské dielne budú trvať približne 1,5 hodiny a sú vhodné pre deti vo veku 6 až 11 rokov. 
Firstly, kids will get familiar with the topic of Juliana Mrvová's current exhibition called After the Fire – nature's recovery after a fire and they will draw their own forest scenes. In the second part of the art workshop, a collective work will be created together – a big watercolour painting combined with the crayon drawings they drew in the first half of the workshop. This way, kids will try two techniques and a collective work.
Art workshop will last approximately 1,5 hours and is suitable for children aged 6 to 11.
CENA

10 Eur / dieťa
Kapacita je obmedzená – max. 10 detí
ČO SI SO SEBOU PRINIESŤ?
1) prihlásené dieťa, alebo deti 😀
2) vhodné oblečenie pre zašpinenie
3) nápoj, ktorý má vaše dieťa rado 
ČO SI SO SEBOU NEMUSÍTE PRINIESŤ?
1) materiál (papier, farby, štetce, fixky a podobne)
2) jedlo
AKO PRIHLÁSIŤ VAŠE DIEŤA ALEBO DETI?
Ak máte záujem záväzne prihlásiť vaše dieťa, napíšte nám na Facebooku správu na profile ATELIER XIII a my vám zašleme IBAN účtu pre uskutočnenie platby. Pri platbe uveďte do poznámky celé meno svojho dieťaťa alebo detí, aby sme platbu mohli identifikovať. Po prijatí platby vám napíšeme správu na Facebooku, ktorá bude považovaná za potvrdenie účasti. V prípade, že záväzne prihlásite svoje dieťa platbou na účet a z akéhokoľvek dôvodu sa nebude môcť zúčastniť, vaša úhrada je nevratná. Ďakujeme za pochopenie.
Rodičovský dohľad nie je potrebný. Prípade, ak je nevyhnutná účasť rodiča, je potrebné, aby mal dospelý rúško!
Žiadame rodičov, ktorí záväzne prihlásia svoje dieťa, alebo deti, aby v sobotu ráno odmerali dieťaťu teplotu. V prípade nameranej zvýšenej teploty (37,5 °C a viac) je vstup zakázaný!!! Buďme zodpovední k našim najmilším.
Ďakujeme.
Tešíme sa na vaše kreatívne deti a veríme, že si dielne s nami užijú.
PRICE
10 Eur / child
Limited capacity – 10 kids maximum
WHAT TO BRING?
1) a registered child, or children 😀
2) clothes suitable for getting dirty
3) drink that your child likes 
WHAT YOU DON'T HAVE TO BRING?
1) material (paper, paints, brushes, felt-tip pens and so on)
2) food
HOW TO REGISTER YOUR CHILD OR CHILDREN?
If you are interested to register your child, write us a message on Facebook to ATELIER XIII and we will send you an account number for making the payment. Please, state the whole name of your child / children into the note of the payment so we can identify it. We will send you a confirmation message on Facebook after receiving the payment, which will be considered as a confirmation of participation. In case you register your child and he/she can't participate for any reason, your payment is not-refundable. Thank you for your understanding.
Parental supervision is not necessary. If presence of a parent is needed, it is required that the parent wears a face mask!!!
Parents that have registered their child are required to check a child's temperature on Saturday morning. In case of 37,5 °C or higher temperature, it is prohibited to come!!! Please, let's stay responsible to our loved ones.
Thank you.
We are looking forward for your creative children and we believe they will enjoy the workshop and have a great time!