V piatok 5. 6. 2020 od 18:00 do 22:00 vás radi privítame na vernisáži výstavy diel Juliany Mrvovej s názvom After the Fire (Po ohni). Výstava nebude otvorená úvodným slovom, preto môžete prísť kedykoľvek v uvedenom čase. 
Vstup bude povolený naraz len dvom osobám s nasadeným rúškom po aplikácii dezinfekčného prostriedku na ruky.
On Friday 5. 6. 2020 from 18:00 until 22:00 we would love to invite you to the opening of the exhibition After the Fire by Juliana Mrvová. The exhibition will not have an opening speech, therefore you can come whenever during this time.
Only 2 people at a time will be allowed to enter, wearing face masks and after using hand desinfection.
EXHIBITION
After the Fire
Od 5. júna do 21. augusta 2020 v ATELIERi XIII
From 5 June till 21 August 2020 in ATELIER XIII

EXHIBITOR
Juliana Mrvová
Vo svojej tvorbe sa venuje najmä maľbe a kresbe, s občasnými presahmi do site specific inštalácií. V posledných rokoch svoj výskum sústredí na rozprávanie príbehov. Príbehov miest, ľudí, rastlín a zvierat, ktoré stretáva pri svojich cestách a na viacerých rezidenčných pobytoch. Z výletov do krajiny si prináša kresby a skice, ktoré neskôr v ateliéri skladá do obrazov a kresieb, mentálnych máp daného miesta. Mieša svoju osobnú skúsenosť s počutými príbehmi, ako aj s ekológiou a sociálnou situáciou daného miesta. Podľa Mrvovej, maľba má schopnosť zaznamenať príbehy miest, ktoré postupne zanikajú alebo strácajú svoj prírodný a kultúrny charakter. Snaží sa zachovať ich v ich autenticite.
Mrvová has always concentrated mainly on painting. Currently, she works predominantly with the media of painting and drawing, mostly in large format, with occasional crossovers to site-specific work and installations. In last years Mrvová focused her artistic research on storytelling and discovering – new places and people and trying to immerse in the new place and later retell its story in the studio. She takes walks in the countryside or a city landscape and capture these moments in a drawing; she speaks with people or tries to communicate with them directly through drawing. She mix stories that she hears with her personal experience and create new "maps" of the place on this basis. These stories often originate in her personal journeys. In her view, painting has a capacity to fix stories in a way that allows them to be preserved in their authenticity. Simple stories symbolize the constantly changing or disappearing world and places that may no longer be the same in a few years.
EDUCATION
2008 Doctoral study, Academy of Fine Arts and Design in Bratislava, Fine arts department, Director of thesis Prof. I. Csudai | 2005 Academy of Fine Arts and Design, Bratislava, 4. Ateliér Studio, Prof. I. Csudai | 2001 Academy of Fine Arts and Design, Bratislava, Studio of Painting and Other Media, Prof. D. Fischer
AWARDS
1st prize in the VUB Maľba 2007 – Painting of the Year 2007 competition, VUB Foundation's young artists' prize for painting

Počas výstavy Juliany Mrvovej môžete počuť hudobný set, ktorý je vytvorený zo skladieb hudobnej skupiny Leto s Monikou.


Ďakujeme Monika!
Leto s Monikou je sólový projekt pesničkárky a skladateľky filmovej hudby Moniky Midriakovej. Tá sa po rozpade projektu Monikino Kino začala venovať svojej sólovej tvorbe a v roku 2018 vydala debutový eponýmny album Leto s Monikou, ktoré vydalo Slnko Records. Nahrávka plná osobných piesní, v ktorých sa Monika vyrovnáva s nástrahami dospelého života, osamelosti a s osobnými stratami, uchvátila poslucháčov i hudobnú kritiku a priniesla jej ocenenie Debut roka na slovenských Radio_Head Awards. Monika aktuálne hraje s trojčlennou živou kapelou.
During Juliana Mrvová´s exhibition, you can hear a music set created out of songs of a music band Leto s Monikou.




Thank you Monika! 
Leto s Monikou is a solo project of a songwriter and film-music composer Monika Midriaková. After the breakup of the project Monikino Kino, she devoted herself to solo work and released her debut eponymous album Leto s Monikou in 2008, released by Slnko Records. A record full of personal songs, in which Monika is coping with pitfalls of adult life, loneliness, and personal losses captivated her listeners and music critics, too. It also won her the Debut of the Year award at Slovak Radio_Head Awards. Monica is currently playing with a three-member live band.
Z verejných zdrojov podporil Fond na podporu umenia
Supported using public funding by Slovak Arts Council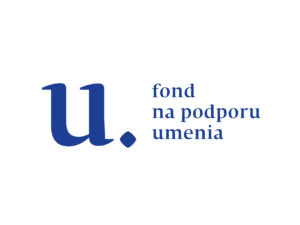 Ďakujeme za pitný režim značke Heineken
Ďakujeme za krásne slová Rádiu_FM!
Tešíme sa na vás!
We are looking forward to you!