EXHIBITOR ~ VILIAM SLAMINKA
EXHIBITION ~ BITTER SWEET
CONFERENCIER OF THE EVENING ~ Miroslav Vladovič
MUSIC FOR THE EXHIBITION ~ Don't Trust Butterflies

Od 14. februára do 17. apríla 2020 v ATELIERi XIII
From 14 February till 17 April 2020 in ATELIER XIII
Prices of the artworks – Viliam Slaminka
Ingrediencie
¼ modrej karimátky
1 molitán
zvyšky extrudovaného polystyrénu zo stavby
staré obrazy
za hrsť zvyškov zaschnutej farby
3 karónové krabice
2 vedrá plastových vrchnákov
viacero farebných i čienobielych nohavičiek
hromada ponožiek a pančušiek
1 gumená rukavica
plátno
akrylové farby
FPU štipendium (ak nie je, môžeme vynechať)
Postup
1) Zhromaždíme materiál, zapíšeme nápady, pretriedime.
2) Zoskupené predmety si dôkladne obzrieme. Všímame si kvality samotného materiálu. Snažime sa využiť ich potenciál s pomocou čo najmenších zásahov.
3) Zamiesime nápady, pripravíme si podklad, vymiešame hmoty farby a postupne vrstvíme a komponujeme.
4) Experimentujeme, pochybujeme, dobre sa bavíme.
5) Ničím nešetríme, držíme sa pravidla – čím viac, tým lepšie.
6) Necháme odležať.
7) Odstáty korpus prekrojíme a v reze odhalíme výdatnú plnku.
8) Priestor zaplníme dobrotami po okraj.
Dobrú chuť.
Cukráreň Bitter sweet – miesto pôžitkov, omamných slastí, chuťových i vizuálnych vnemov.
Eufória i bolesť brucha zároveň. Chuťovky i ťažko stráviteľné kusy.
Chutná realita s fake polevou.
Autor textu: Viliam Slaminka


Ingredients
¼ blue mat
1 foam rubber
residues of extruded polystyrene from construction
old paintings
a handful of dried paint residue
3 cardboard boxes
2 buckets of plastic caps
several colored and black-and-white panties
loads of socks and stockings
1 rubber glove
canvas
acrylic paints
FPU scholarship (if there is none, we can skip it)
Method
1) Gather the material, write down ideas, sort.
2) Take a careful look at the gathered objects. Notice the quality of the material itself. Try to use its potential with the least intervention possible.
3) Mix ideas, prepare the base, knead the masses of paint and gradually layer and compile.
4) Experiment, doubt, have fun.
5) Spare nothing, stick to the rule – the more the better.
6) Let it rest.
7) Cut the rested dough and reveal hearty filling.
8) Fill the space with goodies to the brim.
Enjoy your meal.
Confectionary Bitter sweet – a place of pleasures, intoxicating delights, gustatory and visual sensations.
Euphoria and stomachache at the same time. Canapé and also bits hard to digest.
Tasty reality with fake icing.
Author of the text: Viliam Slaminka
Počas výstavy Viliama Slaminku môžete počuť set od Don't Trust Butterflies, ktorý je nahraný len pre ATELIER XIII.
During the exhibition of Viliam Slaminka, you can hear a music set by Don't Trust Butterflies recorded only for ATELIER XIII
❤
Z verejných zdrojov podporil Fond na podporu umenia
Supported using public funding by Slovak Arts Council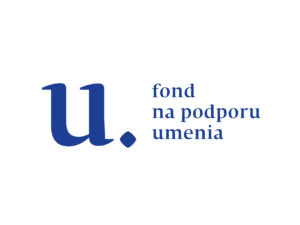 Z verejných zdrojov podporila Nadácia mesta Bratislavy
Supported using public funding by Bratislava City Foundation